The smell of the cafe was rich and cozy, it made him feel right at home. Hell, this place had become his second home. The coffee was delicious and so was the food, and it was half the price of some of the places in this town. Anubis sat in the back corner, his golden yellow eyes flicking over the menu. He had tried almost everything on the menu and still couldn't decide what was his favorite. He could smell bacon cooking and his stomach grumbled. The handsome teacher glanced up as his pretty waitress sauntered over. "What do ya want hon?" She asked to him, and Anubis grinned. I could take a bite out of you… He thought and gave her a charming smile. "I will have the french dip sandwich with a nice stack of your homemade chips and ranch." He said placing the menu in the red panda's hands. She was a nice looking short little thing, and he liked her. She seemed to serve on him quite often, but he never made a move on her. She was sweet, but he wasn't looking for another submissive just yet. She smiled to him as she walked away to place his order, and he sat back sipping on their famous tea while staring out the cafe window in silence. The new school year was about to start, and he had already set up his "classroom" weeks ago. Throughout the summer, since he had taken it off to prepare for the new year, he had gotten all of his class ideas together. English had never been his favorite subject but he had grown to love it as he learned from better teachers, and decided that he wanted to be a teacher himself. Running his thick fingers through his short fur, he pulled out a notebook from his bag and opened it up. There were some sketches on the inside, very good sketches in fact, but he never really saw the talent in his drawing. Most said he was good, but he just didn't see it. She flicked through the notebook finding one of the books he had written notes on and wrote down a few more. The smell of his food made him stop and look up, a smile clear on his face as his waitress brought it to him. "Why thankyou, Amanda. Could i have a refill on your sweet tea?" He asked sliding the cup to her as he moved his notebook and let her place his food. The au ju was steaming and his sandwich was thick and delicious smelling. She placed the chips down and his mouth watered, he loved their chips and the homemade ranch was to die for. She gave him a nod and walked away with his drink to refill it. He flicked through a few pages in his note book, reading it over as he picked up his sandwich and dipped it in the au ju and then took a bite. He glanced out the window watching many people pass in the bright sunny day. Fall was here, and everyone was bustling around getting ready for the new school year.
T A G: --
N O T E S: Actions. Thoughts Speak



Posts

: 8


Join date

: 2015-08-25


Location

: The Universty

Character Information


OOC Account

:

Sinister


Species:


Orientation

:

Bisexual



The young bear wandered into he café with no expectation of covering with anyone other than his waiter. He moved into the area, sitting himself by a window. He loved sitting by windows. He couldn't help but want to stare out of it rather than pay attention to what was happening inside around him. His waiter approached, a young, handsome wolf. "What'll you have, bud?" He looked up at him. He's kinda cute. He smiled a little to himself then spoke to him. "Black coffee, for now, thanks." He smiled to him as he nodded and walked off back towards the kitchen. Jaxon couldn't help but examine his body as he walked away. Shaking his head, he pulled out his laptop and opened up some of his own writings. He never really shared them much with other people, as he never thought anyone would care enough to read them, so he kept most of it to himself. He scrolled through pages, and pages of stories and poems. He didn't realize how much he had written over the last year until he say he was on page 45. He looked out the window again, thinking about the new school year. He was a little nervous, as anyone would be on their first day. He was looking forward to football. He had been aching to play again since high school. He loved it. His attention was reverted to the wolf as he walked back with Jaxon's coffee. "Here you go, bud. My name's Jack, don't hesitate to call if you need anything else." The wolf nodded, giving the bear a smile. "Thank you, Jack. Will do." He smiled back, returning to his work before him, which really wasn't work. He had always been writing, just to keep it up before school so he wouldn't loose any knowledge of anything over the summer months out of school. He peered out the window too see some leaves blowing in the streets. He loves the fall. Football, Halloween, sweaters, coffee, and cuddling. He didn't love anything more.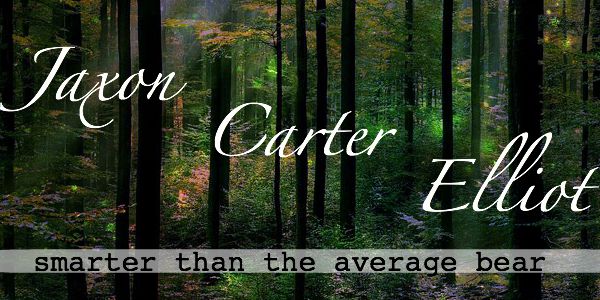 Posts

: 10


Join date

: 2015-08-23


Age

: 19


Location

: West Coast

Character Information


OOC Account

:

BlueberryWine


Species:


Orientation

:

Gay



Anubis heard the bell above the door tinkling, and he glanced up to see a handsome bear walk in. He seemed a little in a hurry, perhaps to sit down. Anubis watched him silently as he took a seat in the booth in front of him and snickered a bit. Anubis scooted towards the edge of his booth to glanced at the bear as he ordered his coffee. He too, watched the wolf walk away and chuckled softly. He wondered if the male that sat in the booth in front of him was a student. His curiosity was getting the better of him, and as he finished up his meal and packed up his stuff and walked past the booth to see that the male had a story written up. Curious once more, Anubis backtracked and took a seat, hoping to not seem so bold. He drew in a breath, and let it out slowly giving Jaxon a handsome smile. "Pardon me for being so bold, but I happened to notice your writing on the computer. Is that your writing?" He was eager to know because it had been a while since he had read a good story, and if he wasn't student maybe he could convince Jaxon to become one. If he had even a small kindle of talent, Anubis could teach him how to turn it into a lovely flame. "Sorry for being so bold, my name is Anubis. I am an English teacher at the University here in town. It is a pleasure to meet you." He said holding out his slender paw to the bear, a smile quirking his lips. He hoped that plopping down in the booth and suddenly asking about his story hadn't freaked him out. Hopefully I didn't scare him. He seems to have a lot written, maybe I could help. He thought as he waited patiently for Jaxon to answer. Part of him waited for Jaxon to run off, the other part of him waited for Jaxon to greet him and perhaps be slightly friendly. It was all in the waiting.

T A G: Jaxon
N O T E S: Actions. Thoughts Speak



Posts

: 8


Join date

: 2015-08-25


Location

: The Universty

Character Information


OOC Account

:

Sinister


Species:


Orientation

:

Bisexual



Jaxon's attention was caught by a sudden movement before him. The very masculine Doberman that sat at the other booth had begun to leave but then sat down across from the Grizzly. He was a little startled by the canine at first, but welcomed him as he questioned about his writing then introduced himself as an English teacher. The bear grasped the other's paw in a handshake before introducing himself. "Not a problem, Anubis." He smiled at the canine before addressing his writing. "I want to become a writer. A journalist or even an author. This particular story is a tragedy, one that happens to be personal. About two homosexuals who finally four love, but for one to only die in a car crash after three years of being together." His eyes slightly watered as he thought about the buck that he still loved. "It's based off of my relationship with my long term boyfriend, Donny, who died in a car collision only a year ago." His big paws were moved up to his face, wiping away the little tears that welled, just to clear this throat. He was embarrassed to be displaying this kind of emotion to someone else, especially his future English teacher. He puffed up his chest and tried to act as manly and masculine as possible. "The rest are just some short stories and poems I tend to write when I get bored at home.He shrugged, still avoiding the tears that so desperately wanted to come out. He nodded and looked to Anubis. "My name's Jaxon, by the way." He gave a weary smile and looked at the handsome male with a look of confusion within his own self. He didn't wish to bother the Doberman with his own inner turmoil. He waited for a response to his writing, hoping for a positive response and maybe come help on how to make his writing better than it was.
TAG:
Anubis
| NOTES: Action. Speech.
Thoughts
Last edited by Jaxon Elliot on Mon Aug 31, 2015 8:45 pm; edited 1 time in total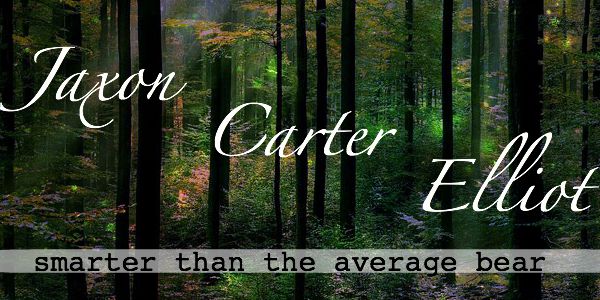 Posts

: 10


Join date

: 2015-08-23


Age

: 19


Location

: West Coast

Character Information


OOC Account

:

BlueberryWine


Species:


Orientation

:

Gay



When Jaxon took his paw, a thrill went through him knowing he had at least made a good connection. He pulled his paw back and straightened his shirt, as he smiled at the grizzly silently. He nodded at Jaxon's words, glad to know he hadn't interrupted to much. He listened to Jaxon's explanation of the story and he noticed his emotions as he sat there. Anubis noticed the tears in his eyes, and had a bad feeling that he was some way connecting his emotions with the story. "Your story sounds intriguing and heart wrenching. Something that many readers could get into. I am sorry however, that it had to come from personal experience. May I read what you have so far?" He asked quietly, hoping that he wouldn't be to upset. Anubis watched as he reached up to wipe the tears away and he reached over to take the grizzly's paw in a brief  yet comforting hold. "It is hard I know, but over time it will get better. Life is a beautiful lie, and Death is the painful truth." He said pulling his paw away and placing it in his lap. He smiled a bit seeing Jaxon regain composure and speak about his other stories and poems. "Boredom is always the best remedy for the greatest stories. It is nice to meet you Jaxon. I hope that you will be attending the university." He said doing his best not to check him out, he didn't want to seem strange or perverted. He waited to see if Jaxon would accept him seeing his work or not.
T A G: Jaxon
N O T E S: Actions. Thoughts Speak



Posts

: 8


Join date

: 2015-08-25


Location

: The Universty

Character Information


OOC Account

:

Sinister


Species:


Orientation

:

Bisexual



His black-brown eyes had a sense of relaxation in them as the canine tried to calm him of his still swirling emotions. He smiled, wiping the rest of his tears away as the Doberman took his paw in his own, and told him that it would get better. He nodded, laughing a little at his little outburst of emotions. "Thank you, Anubis. It's just still almost like a nightmare I can't wake up from." He cleared his throat and addressed his paper again, as the teacher asked to read what he had written already. "Yeah, yeah. Please do." He smiled as he slid his laptop over to the Doberman to read what he had written. He had hoped that Anubis would have asked to read some of his work, as he wanted to be better, but before he showed up, he had nobody to depend on for assistance. He smiled and seemed to brighten up as Anubis spoke about Jaxon attending the university. "Yes sir. I will be attending this fall. I want to be some sort of writer. It's always been the one thing I loved. Well, that and football." He chuckled and looked at the canine with a weary smile. He wasn't sure what the male would think about his aspirations of becoming a writer. If he did not succeed at such a thing, he hoped to maybe go pro into football and make a living my playing something he adored as much as he did writing. Both seemed like al to to handle, but he would be overly happy to be able to do both things in his life. He didn't know what else to say, so he took a sip of his coffee, which tasted a little more sweet than before. He smiled and the feeling of the liquid rolled down his throat. He always loved that sensation. It was a soothing type if thing. He didn't understand it in the slightest, but knew he enjoyed it.
TAG:
Anubis
| NOTES: Action. Speech.
Thoughts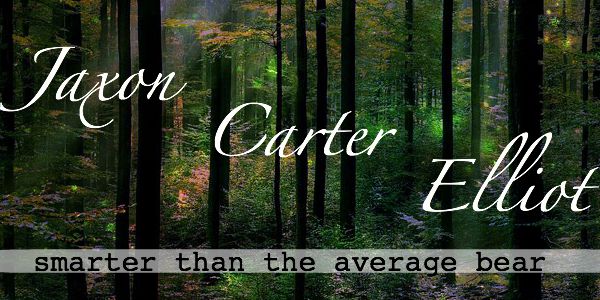 Posts

: 10


Join date

: 2015-08-23


Age

: 19


Location

: West Coast

Character Information


OOC Account

:

BlueberryWine


Species:


Orientation

:

Gay



Anubis saw the calm that swept over the young lad, and smiled at him. He knew the turmoil of emotions that could come out of nowhere, he had witnessed and been apart of plenty himself. Anubis sat a bit taller, stretching out his back as he did. He could already feel the cramps beginning to form, and knew it would be a hellish start to a day if he didn't sit up. Damn orphanage.. He thought the memories sweeping through his mind like an avalanche. Jaxon's voice brought him back to the presence, and he cleared his throat with a smile to him seeing Jaxon wipe the rest of the tears away from his face. "I understand the pain, and it is a nightmare for a long time. Sooner or later, it ends and the sunlight begins to filter through. Taking a step towards college is a great plan to help break through that feeling." He said, his voice soothing as he tried to comfort the grizzly as much as he could. When Jaxon allowed him to begin reading his paper, a wave of excitement went through him. It had been a long time since he had read a good story. When the laptop was turned towards him, he pulled it towards him and began to read. He looked up at Jaxon as he spoke about what he wanted to do in college, and it made him smile more. "It is a good thing Jaxon. It will change you, and I think for the better." He said before diving back down into the reading. He had finished reading it in less time than he had wanted to, he wanted to keep going. He looked up at Jaxon, knowing he was probably worried about what he thought and gave the grizzly a grin. "Your writing, well it is astonishing. I am always amazed at the writers that come through all the universities but your story is taking sharp turns I have never seen a beginner take." He excitedly turned the computer back to him. "You have a good career coming towards you if you finish that book Jaxon." He said with a grin, before nodding to the story. "The only errors i picked up on were a few run on sentences, and a few nouns switched around. Other than that I was sad that is stopped." He sat back, trying to relax his muscles as he couldn't help but smile again at Jaxon.
T A G: Jaxon
N O T E S: Actions. Thoughts Speak



Posts

: 8


Join date

: 2015-08-25


Location

: The Universty

Character Information


OOC Account

:

Sinister


Species:


Orientation

:

Bisexual



Jaxon smiled at the Doberman as he calmed him by trying to relate to the grizzly's pain of his deceased boyfriend. He smiled, a true smile this time. "Thank you, Anubis. It's still difficult to cope, but I know everything will be okay in the end and that he's safe now." He smiled and looked at the canine with bright eyes as he watched him take the laptop and begin reading his work. He was nervous and excited all at the same time. In a few more moments, he had finished reading it faster than he had expected. He listened to his words of feedback and couldn't help but smile more than he had before. "Thank you, sir. It's relieving to hear that from someone who know's a thing or two about writing rather than someone who knows nothing." He chuckled a little bit before looking back up at the canine. "I'll be sure to revise and look through it again to fix those mistakes. Thank you." He really did appreciate the feedback from him, as it was a much needed confidence boost to the bear. He looked back at his pages of papers that were all in his laptop. He smiled at it a little before returning to the conversation before him with the other. He couldn't help but notice how attractive this male was. It was something that Jaxon couldn't help but notice. It was in his nature to see the attractiveness and beauty of other guys, even if they're not gay. He would keep it to himself, and not say a word. Before he realized it, Jaxon caught himself staring a little. He shook his head and blinked awkwardly. He looked away and chuckled a little bit. "Sorry if it looked like I was staring, I zoned out a little bit." He smiled, looking shyly back up at the Doberman. He quickly changed the subject to avoid any awkwardness than there already was in that small moment. "So, Anubis, where are you from? Why did you want to teach at F.U.R.?" He was curious to what brought the canine here to such a place. He wondered what his history was like, but didn't want to dive in too deep in the beginning. After all, he was a professor.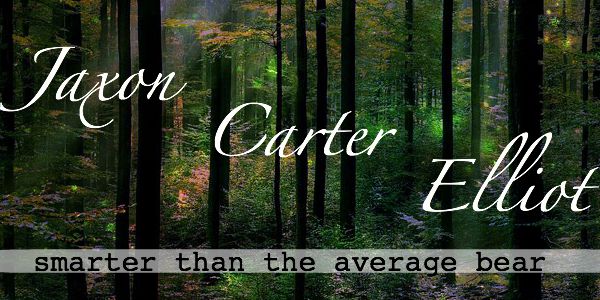 Posts

: 10


Join date

: 2015-08-23


Age

: 19


Location

: West Coast

Character Information


OOC Account

:

BlueberryWine


Species:


Orientation

:

Gay



"I know it is difficult to cope, I'm just glad that you are feeling a little better." Anubis said his voice soft as he spoke, he knew how it felt to loose someone that close. The feeling was very unbearable and he was glad to see the grizzly was doing well. He had seen the nervousness in Jaxon's eyes but he had nothing to worry about. "You are quite talented, I am glad to have been able to read it." He said with a smile on his lips. "Of course, of course. I was glad to have helped. Your mistakes were minor." He added on, encouraging the male to at least look at the paper. He was happy to see the grizzly was excited. Anubis had turned his attention to his phone for a few moments hearing it vibrate. It was only an announcement for something at the university. He slipped his phone back into his pocket and turned back to Jaxon to see him staring. He felt a smile curl up lips as he watched the male before Jaxon realized that he was staring. He chuckled and shook his head. "It is perfectly fine Jaxon." He said and then rose a brow at his words and rubbed his head before shrugging his shoulders. "I am from a few towns over. I am not a local boy by all means but I decided at a young age that I wanted to teach. I just happened to find an application for this University and here I am." He said taking a sip of water that had been given to him. "What about you?" He questioned curious about Jaxon.
T A G: Jaxon
N O T E S: Actions. Thoughts Speak



Posts

: 8


Join date

: 2015-08-25


Location

: The Universty

Character Information


OOC Account

:

Sinister


Species:


Orientation

:

Bisexual



Jaxon smiled and looked at the Doberman with a relieving look. He was overjoyed to hear such a thing from Anubis, as it was enough to lift his spirits for a little while. He was a good writer, and he knew it, but Anubis had just confirmed that he had talent in such a thing. He was, of course, overly happy to hear it. He understood what was needed to get better, and he hoped that befriending Anubis would be one step into having someone close that could help him. Looking around, he took sip of coffee. He folded his laptop back into his backpack, but leaving a sticky note inside of it that read: "Fix run-ons and grammatical errors." He then pulled his phone out of his pocket. The lock screen and background on it was the young buck that he loved. Looking at the time, he then set his phone onto the table. He smiled and looked back to Anubis as he spoke about where he came from, and it was curious to Jaxon, as he had never met anyone from around the area yet. He nodded and smiled, and was slightly surprised to hear him ask about the grizzly himself. "Me? Oh, well. I grew up on the east coast, New Jersey to be exact. Seven siblings, both parents. Scottish and Irish heritage, which of course explains the accent." He chuckled. He never took notice of his accent. It was thick, but clear to anyone who spoke English could understand him. He smiled and spoke a little more, hoping not to bother the Doberman. "Bullied through school for being gay, passed my senior year with flying colors. Then i ended up here as a writing major." He smiled, looking at the canine with a look of hope. He knew he would become close with Anubis. He would help make Jaxon's dreams come true. He could just feel it.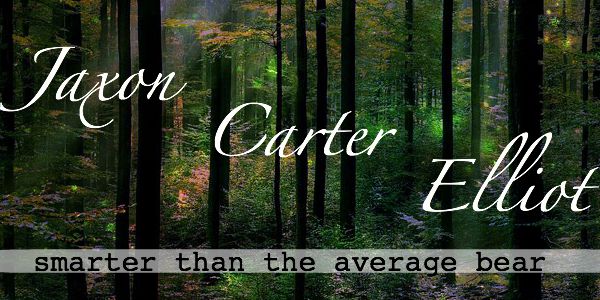 Posts

: 10


Join date

: 2015-08-23


Age

: 19


Location

: West Coast

Character Information


OOC Account

:

BlueberryWine


Species:


Orientation

:

Gay




---
Permissions in this forum:
You
cannot
reply to topics in this forum