Atlantis Elizabeth Ray

Nicknames · Ray, At., Teeth
Age · 21
Gender · Female
Race · Anthro
Species · Blue Shark
Sexual Orientation · Heterosexual
Occupation · Student/Unemployed

Appearance
Being a fish out of water, her appearance does quite differ from the normal anthers out there. Her skin is made of scales but appears smooth along her whole body. Like the animal version of her kind, her scales are made of a lighter gray color that runs along where the underbody of the sea animal would be, a darker gray covers the rest of her body, but gets a blue tint on her back and top of her tail. Her eyes are large and round, crystal blue in color with the pupils like a reptiles. Down along her nose and forehead soft, yet bold darker shades of gray decorate her face. Where normally a shark would just have holes for ears, Atlantis actually as pointed bits that come of either side of her head. They don't look like normal ears, rather just like a block of cartilage and scales that add to her features, but she likes to call them that. Two smaller and pointless ones lie below the main attraction of the three, but are hidden slightly by her short, wavy, sea-blue hair.

Working downwards, her body is slim and built like a swimmer. Ever since she was young, naturally, she had loved swimming, and had made it her sport a long while ago. Her legs are toned as well as her stomach flat. Her tail is long and powerful, aiding her when she competes. Her breasts are average sized, not to big or too small, but what she lacks in size there she makes up for with curves. Although not a huge fan of body art, Atlantis has a small black tattoo of a dragon right above her left hip. (the tattoo) The fish sees it as a symbol of strength and intelligence, two qualities she hopes to find in herself.
Personality
Atlantis is the type of girl who's down with pretty much everything. Depending on the situations around her, she bends her comfort zone to fit them. With her friends she tends to be the cop, reminding everyone of the downsides of what might happen, but will go along with it anyways. She can come across as a smart ass, and is almost always sarcastic. With that she is either liked, or disliked by many people, that all just depends on the person in question. She doesn't need people to be happy, but she does enjoy their company when she wants it. A bit solitary she needs a few hours to herself daily, sometimes spending so much time with people drives her crazy, almost to the point where she wants to pull out her hair. The shark also has a bit of a bite, no pun intended. Although cool, calm, and collected most of the time, she can get rather nasty. And no, not in a sexual way. When she is angry, she'll let you know, most of the time including lots of yelling and perhaps some physical contact. Plus, when she does fall to be that irritated and has a sort of anger or hatred towards a person, she is not likely to trust them the same again, or speak to them.  Despite those factors, the anthro has a good head on her shoulders and a sense of what she is doing. She doesn't let many things get to her deep down, she has learned the hard way that it only leads to a seemingly endless pit of despair and depression. And she's been there before and won't go back again. The girl stands up for what she believes in and won't let anyone else spiral or walk down that same road on her watch. And though her appearance might seem weird or "fishy" to some, she puts on her best smile that won't show her rows of sharp teeth.
History
From a young age, Atlantis hasn't always been the average girl. She wore more shorts and jeans than skirts, she hated those pieces of flimsy fabric. Dresses weren't her thing either, she'd only wear them when necessary. She never got how the female population loved shopping or dressing up so much, it seemed like a waste of time. She was more of an active person. The type of gal that would get muddy during recess while playing soccer or some other sport with he boys. She preferred video games over dolls, and these things lead her to forming better relationships with guys rather than girls. She fit in with them more, understood their nature and blended in with it. Even her sports team was consisted of mostly boys, even though it was co-ed. Course there were one or two girls that she could become closer to with, but she sticked with her friends of the opposite gender. She'd miss being able to play in tournaments or participate in meets because of what she was born as, when all she wanted was to play.  The shark never quite understood why society was so hellbent on keeping them separated. But as she grew older she finally realized why things were as they are, but she wishes that she never knew.

During her last year of middle school and the first year or two of high school she had been bullied. Pummeled and pushed into nothing but a shell of her old self. Those boys she had called her best friends for so many years turned on her and shoved her aside like a piece of trash they didn't want to pick up. Friendless and alone she became their target, forgetting that they too had supported her and cared for her when they were young. But she never forgot. Slowly she fell down into a pit, each comment had sunk in and deep and had stayed with her, making her worse and worse everyday. She had just about given up when someone was able to pull her out of it, get her going again. And soon, that sadness had turned into anger. She began to stick up for herself, push back when they pushed her. She never wanted to fight them, but rather get her point that they could not do this to her or anyone else. But the new change had not helped at all, in fact it all became more violent. It was a month or two after she had found herself again, with a new band of friends consisting of both genders. Each on of them had a different connection to each person, and they knew everything there was to know about the other.  The two groups clashed together, creating havoc for both of them. It was a full out fight, but lots of yelling. Atlantis had felt awful about bringing them together like this, but she was thankful that they had her back. And it was at that moment when she got the nickname "Teeth".  Having been so fed up with how things were gaining, she lashed out, literally. One moment  she was being pushed to the ground and the next someone was on the ground holding their bloody arm as he screamed in pain. The teen ager could taste the blood that was now in her mouth, and she hated it. She didn't want it there and she was not quite sure why she had lashed out. But one thing was for certain, they wouldn't mess with her again. As she left them to go wash her mouth out more than a few times, the faces of the group of boys was almost priceless. They were somewhere in-between a look of horror, awe, and stunned. Something that both makes her want to laugh, and curl into a ball out of shame at the same time.  

Moving forward a few years later, Atlantis found herself enrolled in college. Focusing on her studies for the first three years, nothing much happened. But now, at the legal drinking age of 21, she can do so much more. Not that she hadn't done them anyway, but she couldn't get in trouble for drinking at parties by the cops if they showed up. Having never gotten drunk that would also be something that would be both horrifying and amusing to try out. And because of her new courage and freedom to do more adult things, she decided to make a difference in her daily college life. Changing schools was a huge leap, but she did it anyway. Excitement and adventure await, and she can't wait to discover it all.
Roleplay Sample
It's from AGE
For a while it was quiet. For a while it was just him and the earth, basking in the heat of the sun. His eyes had closed as he began to relax a bit, still stiff from his thoughts but less.. troubled. His dark pelt absorbed the rays of the sun that shone down upon him, and the rock he lay on soon became warm to the touch. If it were not for the water below him he would have worried about overheating in this heat. It was a rather hot day, but as the bits of water sprayed upon him as the waves hit the rock he now rested on, he was cooled. The small fizz of the particles of salty water in there air was also cooler than being in the camp clearing. Undisturbed and alone.. it was rather nice now that he was here. But it seemed that almost everything he could or would think about always led him back to conclusion of what troubled him. Something was wrong with him, he had never felt so unhappy as he did now. Before he had been fine, almost happy, but now something bugged him and he couldn't pinpoint what it was. Agavos was fine, he liked living in the strange group of wolves. He may not know many of them, but slowly he was getting accustomed to many of its members. As a Delta it was his job to look over them, train them. Which was another thing he also had not done quite yet.

At the end of the hunt, when he was promoted, Desmond had said that he, with the help of Breeze, was supposed to train the wolves. But now, about a season later and he still had done nothing. A few thoughts were coming into his mind, and slowly he was forming something. He hoped it would be done soon, he wanted to finish his first training task soon. But he also did not want it to be boring, or else it would have barely any effect. His jaws opened to let a sigh come from his lungs and into the air. It was soft against the sounds of nature, almost blending into nothing. All he saw still was darkness, his eye lids being closed made sure of that. But still he could picture what lay before him, endless amounts blue from both the sky and water. Only the liquid was darker and a tad green the farther out one would look. Behind him white beaches lay and soaked up the sun. To the left there was the arch that when the wind passed through made a soft whistle or howl. And atop and behind that was the forests, inland where one would go to the camp clearing or neutrals. Along both sides of him the shore line extended. For how far it went exactly he did not know, nor did he really care. He knew it was there and that was all that mattered to him.

The sound of distressed squawking from the distance alerted him that he was no longer alone. He opened his eyes and raised his head, looking over in the direction from the noises came from. His gaze caught onto the white and gray feathers of the seagulls as the flew into the air then back down onto the sand. From where he was he could only see the birds as they rose into the sky, but could not see the culprit of their loudness and panic. He rolled his eyes, a low growl coming out from his closed jaws in annoyance. His ears flattened as he lowered his head onto his dry legs again. His eyes looking back out towards the sea. Dropping his tail from its position at his side he let it hang loosely off the rock. It just dipped into the water, the tip of it becoming soaked a tad as he left it there. The bounding of paw-steps was becoming louder against the sands, but he did not turn his head. He kept looking out to the sea, thinking of nothing but everything. The banner of his that was in the water moved with the soft waves as much as it could. Drifting back and forth as the unknown being made itself closer to his own mass.

"'Delta Desoto...'" The voice was soft, feminine; a murmur. As almost as if she wished not so startle him in his silent state. Moving his head he looked over at her, his golden orbs scanning over her frame. She was smaller, not tiny, but small. Her eyes were a jaded green that seemed to glow against her dark pelt. Green eyes.. just like..no. He blinked to get rid of the thoughts, his eyes looking away from the she-wolf for a moment. She was gentle, almost as if he gave off how troubled he was at the moment. She said it was a pleasure to meet him, but would it still remain? He never really got first impressions down right, Fel would be an example. He still frowned upon that moment and he had a feeling that she would never let what he had said go. A penny for his thoughts? A season ago he had asked Braelyn the same question, only used hare instead. He sighed once more, his head turning back to the female who still stood in the waters that surrounded him. His golden optics locking on her face in a gaze of neutrality. Void of most emotion as he opened his jaws to speak. "My thoughts are jumbled. Trying to figure things out, you see. I want things, but I cannot have them. I have a training task that I still need to plan, wolves to oversee, borders to patrol and loners to accept or decline. Agaves has grown quickly, and me and my nature are finding it difficult to become accustomed to the new wolves around here. I have been here since the beginning, yet I only know a few wolves, not befriended any." He stopped his words from going forth, not wanting to trouble the vixen before him. She was a member, not a higher ranked. She needn't be hearing of the complaints of a superior. He offered a tense, half-hearted smile. It only reached halfway across his muzzle, and barely showed his teeth. "Anyways, you are Sieg..." He shut his mouth, his eyes narrowing in thought as he tried to remember the rest of it. But he could not and it bothered him a bit. "Sorry.. I'm not the best with names; if you hadn't guessed. But if I remember correctly you are a hunter, yes?   Tell me, who accepted you at the borders, and how are you liking Agavos?""
Out Of Character Information
Your Name/Alias ·
Myth
How Long Have You Been Roleplaying? ·
Few years
How did you find us? ·
Admin/Referral by site owner
What's the best way to contact you? ·
PM
Last edited by Atlantis Ray on Fri Oct 09, 2015 10:24 pm; edited 1 time in total



Posts

: 3


Join date

: 2015-09-05

Character Information


OOC Account

:

Myth


Species:


Orientation

:

Bi-Curious






Posts

: 3


Join date

: 2015-09-05

Character Information


OOC Account

:

Myth


Species:


Orientation

:

Bi-Curious



You're Accepted!

____________

What should you do now?



1. Visit the Claims and save your name, character, voice, song, and relationship status!


2. Make sure you reserve a Dormitory for your student. If you wish to have a teacher, PM The Dean.


3. Check out our Member Zone and get to know the other players on site!


4. And if you get bored, make your presence known in the Chatbox! We don't bite... Unless you want us to!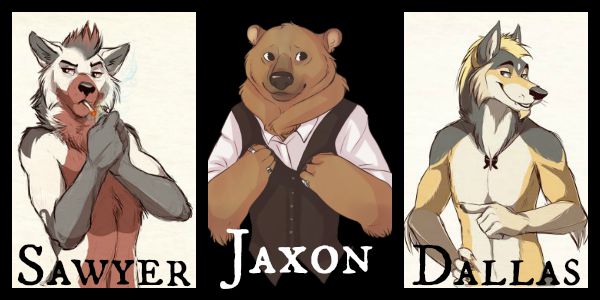 JAXON CARTER ELLIOT, DALLAS CLAY FELTON  & SAWYER REED WESTON



Posts

: 15


Join date

: 2015-08-23




---
Permissions in this forum:
You
cannot
reply to topics in this forum