Sebastian Rose Warner

Nicknames · Seb
Age · 19
Gender · Male
Race · Anthro
Species · Cat
Sexual Orientation · Homosexual
Occupation · Clerk at Hitchcock Theater

Appearance
This is Sebastian, he is a short cream and white colored cat. He stands at only 5'2 a shocking height for a young male. Most of the males in his family were tall and strong, but not Sebastian. While his height tends to put people off, his mighty looks don't. He is a handsome cat with soft golden eyes and the hair to match he could be called simple. His tail is a different array of cream colors, and his back matches his tail as well as his ears. Normally he wears clothes almost everywhere, around the dorm or just in general. Sweatpants when  home, jeans when out. He likes to dress his best, even when he is just going out for dinner or on a stroll.
Personality
Sebastian is shy, when it comes to meeting new people he is different from his normal self. He has improved on his shy ability though, joining drama pushed him to become a little more bold. He can now, at least, start the conversation and ask questions. He is still shy but at least he is always open for making friends. Despite his shy attitude around new people Sebastian is very open and fun when is comfortable. He is a completely new person once he has gotten comfortable. He is a friendly cat, and always has been. Even when things seemed down he always tried to stay positive. Positive attitude wasn't always the best thing in his home, which is why it always fell on him to at least make it seem like something good could happen. Sometimes it worked and other times it didn't, Sebastian always tried to look on the brighter side of things. When he finally left the house to be on his own, he learned about the real world and how tough it actually was. It startled him to no end, but he tried to be the sunshine in someone's day. He learned that being positive outside of the house was just as effective in the real world. Sebastian does have his days where nothing goes right and he just doesn't think to be positive. He just becomes depressed, and normally his friends pull him out. The feeling of depression sinks in on him and makes him feel very sick.
History
Growing up Sebastian was slightly different from who he is now. He was straight, and all his young life growing up it felt strange. Girl's just didn't interest him in the way a male would. He of course, thought this was strange as he was growing up and thought it was wrong. He had tried to express his feelings of boys to his parents but they didn't really listen. His siblings didn't listen either. He was alone in the world, at least that was how he felt. That was until he was about ten years old and saw a boy speaking to his mom about how felt. It was a shock to see the mother so open to the boy and how he felt. Sebastian had decided then that he would make his parents listen. When he got home he told them that he had something to tell them and made them sit down and stop arguing for once. Coming out was hard, and as Sebastian learned it would have been harder if he had waited. Instead, he told his parents speaking slowly so they understood. He wasn't sure how they would react, not all parents were the same. Instead, they were open and honest with him. They said that although it wasn't something they naturally thought was right they would support him. His siblings soon found out and they were all supportive.

Sebastian changed after that, no longer having to hide he felt incredible. He was able to express his creative side by designing things and opening up to his friends. His friends were the ones that weren't supportive but that was ok. The only friend that stuck around was his best friend Pete. He supported Sebastian and even though he played for the other team he was happy to point out guys that he thought Sebastian would find cute, or just help him when anything became to rough. Sebastian was glad to have Pete around for his years growing up. Once out of high school, Pete and Sebastian went their separate ways. Pete found his love for football and had a scholarship to another school and Sebastian had decided to pursue something in drama. Drama had helped him get over his shy ways and he felt that it was inspiring. He hid that he was gay a lot of the time but a few people he worked with found out only after a few days. They spoke to him but didn't make a big scene. He was excited to start college, and pursue something he could actually express his talents in.  
Roleplay Sample

The rugged terrain of Hollental Valley was dry but shady from various trees. Far down below sat a small river flowing swiftly, it's currents strong but not strong enough to kill an adult wolf. The small fae stood at the top of one of the steep slopes, looking down at the river as it sparkled in the summer light. The steep slopes could be a danger if any wolf were to tumble down the side, and perhaps even kill a wolf. The small fae stood at the very edge now, looking over the valley with her head held high, her ears perked forward and her muzzle up. Her jaws were slightly parted the scent of Agavos drifting over her. All this land was the packs, it was thrilling to see and know. It reminded her of lands from home, and with the thought of home, it turned to Quinn and Lark. She sighed softly and felt her ears flatten against her head. It was a struggling conflict to have both the thoughts of Agavos and the thoughts of her siblings in her mind. The small fae swished her tail, before taking a seat in a softer patch of grass. She was close to the edge looking over the land, her golden gaze bright in the afternoon sunlight. The sun was warm, but it wasn't overly hot, for she was near a shady area. The wind on the top of the slope was a bit stronger and fresh scents tingled her nostrils as she breathed in. There were rabbits not to far down the slope, and as the scent drifted towards her on the breeze she looked down and saw them hopping around trying to reach the top of the slope for fresh clover. A perfect opportunity. She thought and moved away from the edge, her small body slipping around the large pieces of brush. She crouched down silently looking at the edge of the hill where the clover was flourishing and waited.The two brown rabbits had found the clover in a matter of minutes and were eating it without much notice to the predator in the brush.

She moved away from the brush, silent on her paws. She looked at each area before she stepped, keeping an eye on the movement of the rabbits. Excitement was growing in her belly as she moved forward, her supple golden gaze bright and hungry. She was now only a few feet from them, and they hadn't caught wind of her..yet. She wanted them to, she wanted them to run the opposite way of the edge. She was coming around their backside, and as the breeze whipped over the edge it took her scent with it. She watched the rabbits breath it in, and in a confused horror they took off. Esmé laughed, the sound bright and indifferent against the lands, the hunt was on and she was quick to race after them. Her small paws took off, and were almost a blur as she ran after the rabbits her paws hitting the hard dirt with an audible thumping sound. Esmé followed the rabbits, her pace fast but nothing too strenuous on her lungs. She caught the first rabbit as it was trying to turn, her jaws snapping onto it's powerful back leg. The rabbit let out a loud scream as Esmé killed it, snapping it's neck in her powerful jaws. The other rabbit had continued to run, but the fae was right on its trail. She leaped after this last one, her jaws parted a look of excitement and lust for killing in her eyes. She snapped down on the second larger brown rabbit her jaws wrapping around the midsection. There was a spray of blood as she bit down, staining her beautiful white and grey coat with warm crimson blood. She picked up her kill, light on her paws as she worked her way over to the other rabbit. Their blood mingling in a pool of blood, still fresh and warm. Esmé took a seat, the warm blood dripping off her muzzle and onto the dry dirt ground. After that run she felt warmed up and ready to do some more hunting, but she also wanted to look out over the land and wait for a while. The latter took over, and she sat next to her kills her blood stained fur slowly starting to dry in the heat. She turned to her shoulder licking the blood off of it, tried to clean herself up a little bit but she still looked like she had killed an elk. She chuckled and laid down, her head in her paws and her eyes watching the river flow far below. She couldn't think of a better way to end the day, besides getting to eat one of her delicious smelling rabbits.
Out Of Character Information
Your Name/Alias ·
Sinister
How Long Have You Been Roleplaying? ·
Years
How did you find us? ·
Already A Member
What's the best way to contact you? ·
PM



Posts

: 4


Join date

: 2015-08-27


Location

: University

Character Information


OOC Account

:

Sinister


Species:


Orientation

:

Gay






Posts

: 4


Join date

: 2015-08-27


Location

: University

Character Information


OOC Account

:

Sinister


Species:


Orientation

:

Gay



You're Accepted!

____________

What should you do now?



1. Visit the Claims and save your name, character, voice, song, and relationship status!


2. Make sure you reserve a Dormitory for your student. If you wish to have a teacher, PM The Dean.


3. Check out our Member Zone and get to know the other players on site!


4. And if you get bored, make your presence known in the Chatbox! We don't bite... Unless you want us to!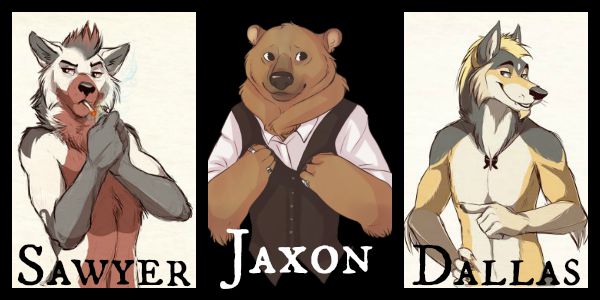 JAXON CARTER ELLIOT, DALLAS CLAY FELTON  & SAWYER REED WESTON



Posts

: 15


Join date

: 2015-08-23




---
Permissions in this forum:
You
cannot
reply to topics in this forum