Eveylin Jessica Myers

Nicknames · Eve or Lin
Age · 18
Gender · Female
Race · Shape-Shifter
Species · Feline; Siberian White Tiger
Sexual Orientation · Heterosexual
Occupation · A Dancer

Appearance
Most would describe her as an angel with a delicate touch. For starters her platinum hair cascade down her back in long strands. Her hair style is small wavy curls that goes with her face, but when it's really curled her hair would appear shorter. Her face comes out to be smooth, but her bone structure in her cheek makes it look like it is strong. Her eyes are really bright green that it almost seem they are turquoise, which makes her unique than most. Her body is skinny but toned as she works out to keep it up. She weighs about 99 pounds, due to her high metabolism. Eveylin's skin is pale tone as she was born with it. She has only one has one tattoo that is located on her stomach, and two piercing s on both of her ears. Her Feral side is that she has white short fur, with black stripes that flow from her head to tail. Her eyes are the same shade of green, and she has a little grey spot on her nose. She weighs about 102 pounds and her muscle mass is a little more than her human form.
Personality
For one thing, Eveylin is not like how a typical blonde would be classified. Yes she is friendly and will be nice once and awhile, but she has a fiery side to her in which she never doesn't take no so easily and will come back to you harder. Also she is quite smart and will find out answers or things quickly to things that bother her or someone else. Most of her personality is also due to her flirtatious ways, which gets her out of trouble most of the time. Eveylin usually able to deal with distractions or things that might typically get under someone skin, but things like bullying or people who talk about people that she care about would get under her skin. Eveylin would treat her friends like they were her brother sisters and would do anything for them any possible way that she could, and as for her enemies she would just not pay attention to them unless the attack something or someone that she is close with.
History

At the age of 18 a young Eveylin has just graduated Long Beach high, was on her way to college. Pretty much life was based around coming from a large wealthy family, and being popular at her school also she she was shape shifter. She did have a boyfriend for 2 years and a lot of friends. When she was around 15, her parents where teaching her how to shift and what risks are there. While arriving at home, she had always entered the house to hear her parents arguing which was nothing that phased her and soon began to pack for college. One day while her parents were away on vacation, her friends had decided to come over and take her out for some fun. So at night they took her to a night club where the showed fake IDs and entered. To most was considered a good girl but that night she showed her wild side and one of her new habits was that she started to smoke and after that night, that habit began to grow. One night while Eveylin was getting up to go the restroom she had fainted and her parents called the ambulance.

- 2 months later -

After that terrifying night, Eveylin was currently in the hospital due to having cancer from smoking. It had been some rough months for her as they been running test to find out if they could located the tumor and by this time her friends and boyfriend had distance themselves from her due to her states. A week later the doctor had found a tumor in her leg that had to be taken out quickly as it was growing larger and larger each day, so they took her to surgery. As the doctor cut into her leg and start to work, they was able to locate the tumor and take it out. An hour later her surgery was complete and she stayed in the hospital for a few days before going home. While at home she was looking in the mirror when suddenly a sharp pain had fired in her body as her form started to change and soon became a dog, due to hearing her scream before her shift her mom had ran in to check on her and soon saw her daughter in this form. After a few minutes she change back and explained to her mom, and her told her sometimes when you go through things like surgery your body readjust that includes shifting. Soon after that She moved away to head to college.
Roleplay Sample
Delta Darcy- The Joys Of Life- The Lost Ones v2
Just about to move on to the next, a finger lightly tapped her shoulder and she turned to look.  Someone was holding out a drink towards her, Darcy stared at it for a second before grabbing it gently then dismissing the person with a wave of her hand. The she-wolf was curious to see who had sent her it, sure she was full from her first drink but she couldn't turn the second one down. Her green eyes scanned he crowd closely not really eye the bar right away. But a faint scent caught her attention to look over before noticing a guy with a similar smell to her own scent. Quietly Darcy began to piece things together and took a tiny sip of the drink as looked right back to him. The fae was puzzled as the male seem familiar in a way but she just couldn't put a finger on it. Tossing her black hair over her shoulder, Darcy sighed it slowly came to her. Resting a hand on her hip she continued to watch.  

Taking ant other whiff of the scent, she smiled to herself as she figured out it was a caedesque member. Hmm... Nice but drinks don't win me over so easily. Darcy eyes flicked as her wolf stirred and growled with delight,"Now is your chance to work some of your magic, my darling." Taking a quick sip again, she moved into a smirk which was friendly and flirty at the same time."You're right, I just can't let him have all the fun..swiftly she began to walk over to him her walk held beauty, elegant and grace with a enough power to pull it together. Arrive to a stool beside the male and she placed her drink onto the counter." Well, Well, Well someone decided to venture away from home." her smirk held its form as she crossed her legs and smoothed out her strapless dress. Then with hers the entangle her own hands together and placed them on her lap.
Out Of Character Information
Your Name/Alias ·
Kiki
How Long Have You Been Roleplaying? ·
About 6 to 7 years
Age of Wolves ·
Google? Website? Directory?
What's the best way to contact you? ·
PM



Posts

: 5


Join date

: 2015-09-07


Age

: 20


Location

: United States

Character Information


OOC Account

:

Kiki


Species: Feline


Orientation

:

Straight



Are you wishing to be a dancer at the Lion's Den?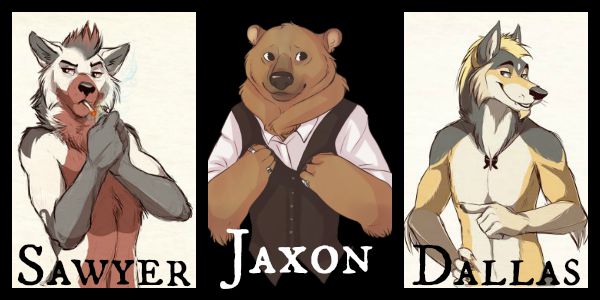 JAXON CARTER ELLIOT, DALLAS CLAY FELTON  & SAWYER REED WESTON



Posts

: 15


Join date

: 2015-08-23






Posts

: 5


Join date

: 2015-09-07


Age

: 20


Location

: United States

Character Information


OOC Account

:

Kiki


Species: Feline


Orientation

:

Straight



Before you are given the position, you will have to have an audition IC with the manager, Kale Muse, who's OOC is DarkWolfProwler.
You're Accepted!

____________

What should you do now?



1. Visit the Claims and save your name, character, voice, song, and relationship status!


2. Make sure you reserve a Dormitory for your student. If you wish to have a teacher, PM The Dean.


3. Check out our Member Zone and get to know the other players on site!


4. And if you get bored, make your presence known in the Chatbox! We don't bite... Unless you want us to!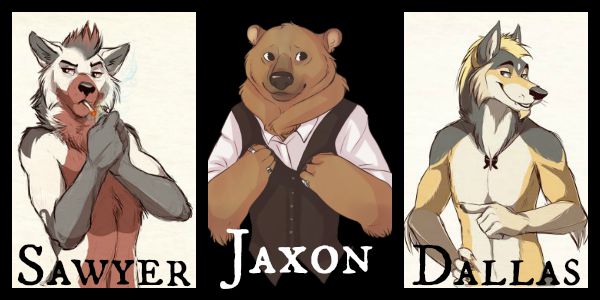 JAXON CARTER ELLIOT, DALLAS CLAY FELTON  & SAWYER REED WESTON



Posts

: 15


Join date

: 2015-08-23




---
Permissions in this forum:
You
cannot
reply to topics in this forum